Federal Retirement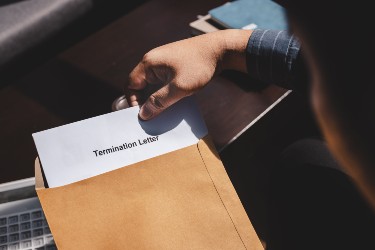 In addition to competitive pay, federal employees enjoy good benefits and a generous pension.
What's more, federal employees with at least one year of service have significant rights with respect to their job security.
Federal employees have a reputation for being hard to fire because of these rights and the corresponding processes.
Nevertheless, agencies may fire federal employees for a variety of reasons, including poor performance, misconduct, or downsizing.
If you're a federal employee, you've probably wondered, can you lose your federal retirement benefits if fired?
How Federal Retirement Benefits Work
The Federal Employee Retirement System (FERS), administered by the Office of Personnel Management (OPM), awards retirement benefits to eligible employees.
FERS covers employees who started their service with the government after January 1, 1987.
The Civil Service Retirement Act (CSRS) covers federal employees who started working for the government before that date.
FERS is a retirement program that provides benefits from Social Security, a Thrift Savings Plan (TSP), and a Basic Benefits Plan.
The first two are transferable to other jobs if a federal employee leaves before retirement.
These retirement benefits fully vest in employees after five years of service, though annuities won't begin until an employee reaches minimum retirement age (MRA).
For example, the federal minimum retirement age for employees born in 1970 or later is 57.
Although the eligibility rules vary slightly depending on service length, federal employees with more than 10 years of service receive an annuity immediately upon reaching their MRA.
Employees with 5-10 years of service can receive an annuity starting at age 62.
Federal employees with at least 10 years of service can elect to take an immediate retirement or defer it. FERS reduces immediate retirement benefits by 5% per year for each year the employee is under age 62.
Disability and early retirement may have slightly different timelines depending on the employee's age and years of service.
If you have questions about your federal retirement benefits, a federal employment lawyer can provide advice on your eligibility and the benefits available to you.
Do Federal Employees Lose Their Retirement If They're Fired?
The short answer is no. Unfortunately, the misconception that you can lose your federal retirement if fired persists even among federal employees.
Many employees incorrectly believe that they will lose their federal retirement benefits if the agency fires them.
However, the truth is that federal employees whose retirement benefits have vested are all but guaranteed to receive those benefits, subject to a few exceptions.
Employees unaware of this may be tempted or pressured to resign if they know they are about to be fired.
These employees are often under the wrong impression that by resigning, they can save the benefits they would otherwise lose.
This was exactly the situation in Morrison v. Department of the Navy. In that case, the Department of the Navy alerted an employee that an adverse employment action was pending against him.
The Department urged him to resign to avoid losing his retirement benefits.
Ruling on the case, the Merit Systems Protection Board (MSPB) noted that retirement benefits earned over the course of a federal career "are generally available upon separation from federal service, even when the separation is agency initiated."
To be clear, this means that when an agency fires a federal employee—whether for cause, poor performance, reduction in force, or otherwise—that employee remains entitled to any vested retirement benefits.
There are very limited exceptions to this rule (discussed below), but for the vast majority of federal employees, they will never be an issue.
How Federal Employees Can Lose Their Retirement Benefits
As mentioned above, there are only a few narrow circumstances in which federal employee will lose their retirement benefits.
Under 5 U.S.C. § 8312, federal employees forfeit their retirement benefits only if they are convicted of one or more specific federal crimes.
There are more than 20 in total, each covering an act against the national security of the United States, including:
Gathering, transmitting, or losing defense information;
Espionage;
Treason;
Enlisting to serve against the United States;
Aiding the enemy;
Disclosure of classified information; and
Perjury under federal law.
Related statutory sections cover additional crimes that would render a federal employee ineligible for benefits. These include:
Fleeing the United States to avoid prosecution;
Refusing to testify before a federal grand jury about involvement with a foreign government or other interference with national security; and
Falsifying information on an employment application about the employee's previous association with groups advocating for the overthrow of the government.
Federal employees who do not commit any of those crimes don't have to worry about losing their benefits.
Can Federal Employees with Voluntary Early Retirement Lose Their Retirement Benefits If Fired?
The Voluntary Early Retirement Authority (VERA) allows government agencies to temporarily reduce the minimum age and service requirements for retirement benefits.
Agencies usually use VERA to offer employees an incentive to retire voluntarily, often during a restructuring, downsizing, or reorganization.
Rather than involuntarily reducing the number of employees at the agency, it may make VERA offers or Voluntary Separation Incentive Payments (VSIP) to willing employees.
Unlike with FERS or CSRS, federal employees fired for poor performance or misconduct cannot take advantage of discontinued service annuities under VERA.
However, they may still be eligible for a deferred benefit.
Federal employment lawyers familiar with government retirement plans can help you assess your options.
If you accepted a voluntary early retirement offer from a government agency, a federal employment lawyer can also advise you of your rights moving forward.
Hire a Federal Employment Attorney
The Law Office of Aaron D. Wersing has been helping federal employees with their retirement and disability benefits for many years.
During that time, we've helped hundreds of clients reclaim their jobs, stop discrimination, and resolve other issues in the workplace.
If you resigned based on false information about the status of your retirement benefits, we can help.
Contact us today or call us at (833) 833-3529.